BLOG
OT Cyber Security Meetups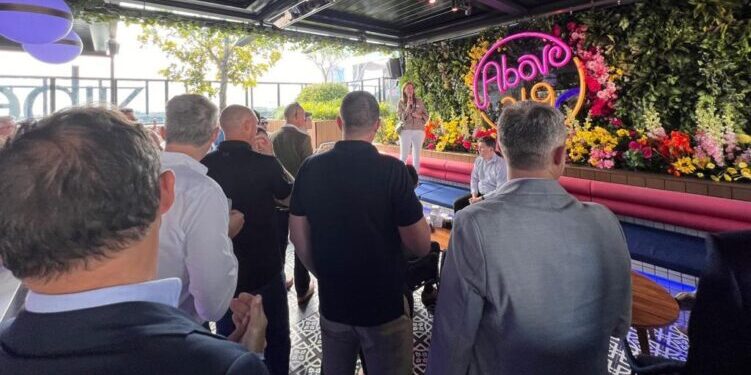 Operational technology (OT) is the backbone of our critical infrastructure. It powers our cities, transport systems, energy plants, and manufacturing operations. With the rapid digitalisation of OT systems and the rise in cyber threats, securing our OT has become a top priority for organisations across different sectors. As cyber security challenges continue to evolve, it's important to stay informed and connected with other industry experts.
We sat down with Secolve Chief Growth Officer, Belinda Noel, to find out more about how cyber security meetups can support OT professionals and strengthen critical infrastructure against cyber threats to our community. 
What inspired you to begin hosting OT cyber security meetups?
At Secolve we've always been passionate about the OT security community and connecting with people in meaningful ways. 
I came up with the idea of doing OT security meetups at the end of 2022 when we were planning a trip to Melbourne. I was thinking about how there are so many IT security events and meetups, but nothing really in the OT security community. I wanted to focus on getting people together who were all passionate about protecting critical infrastructure. As this is such a key and growing area of cyber security with a huge focus from the government with the SOCI Act I was sure this was a community who would want to get together. 
I wanted to make sure the events were open to all, whether you were an OT asset owner or operator, a cyber security enthusiast, or a student looking to break into the industry. 


What has the response been like so far to the Secolve OT security meetups?
So far, I've been really happy with the interest on LinkedIn. We share all the events through our LinkedIn page, quite often getting over 100 signups for each event. We have held them in Melbourne twice, Sydney, Perth, Brisbane, and Adelaide, and are constantly planning ones for the future which we look forward to announcing soon.  
What do you hope people get out of the meetups?
The conversations that you have are what makes them so great – from hearing podcast recommendations, to what people are focusing on, OT stories from the field, or how someone has just got their first break into the industry. Meeting the OT teams of companies and getting to talk to different people from the industry, and having those chats you might not always be able to have in a more causal setting is really important.
The OT community are really passionate about what they do, so it's been really valuable to connect with so many great people and hear their experiences.


What do you think are the biggest challenges facing OT security right now?
One of the biggest issues is actually finding people who understand OT security – who can really help advise organisations on how they can be secure, and work with internal teams to uplift their cyber security maturity. The government is doing a lot around critical infrastructure security with the introduction of the SOCI Act and trying to become the most cyber-secure country by 2030, so there are a lot of new considerations and updated obligations organisations need to adhere to.
Securing critical infrastructure and OT have many complexities that differentiate itself from IT. IT cyber security risks tend to be better understood by everyone, and the OT cyber security field is relatively new in comparison so there's a lot of work that needs to be done to increase awareness and also provide the right training to people in the field.
Understanding the criticality of sites and assets, and the impact a cyber attack could have on communities, is what makes the mission even more important. It's all about coming together as a community to understand where we're getting wins, where we can improve, and what challenges we're collectively facing.
Getting people together to share learnings, connect, and make new industry friends is what these meetups are all about.